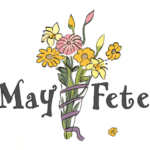 THE BARRON PARK MAY FETE HAS BEEN RESCHEDULED TO MONDAY MAY 27, 2019 (MEMORIAL DAY)
This year Barron Park celebrates the 41st Anniversary of May Fête!
Enjoy live music and dancers performing all afternoon
A community Maypole Dance at 2:30, Wear ribbons!
Bring family, friends, and a blanket, and make a picnic of it,
There will be Hamburgers, Hot Dogs, Roast Chicken, Soft Drinks and Snacks for purchase,
Active games and crafts for children, face painting, a three-legged race, water ballon toss, hula hoop contest, bounce house and more!
Our dear donkeys Perry and Jenny will visit as well.
The May Fête is a volunteer effort. Come join us for the fun prep and set-up. To help out, please contact Silvia Griswold at: ssgriswold@sbcglobal.net or John King at: johnwadeking@gmail.com or (650) 483-2710.