Join the Barron Park Association
Join the BPA Now for 2023!
We welcome all Barron Park residents to become members of the BPA. Business members should either be Barron Park residents or have a business near Barron Park.
Our membership year runs from January 1st through December 31st. If you join from Oct. 1 to Dec. 31, 2022, your membership is extended for 2023.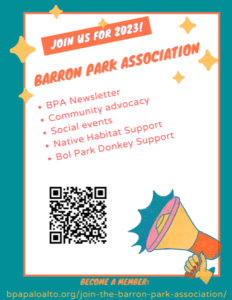 ---
Online Membership through PayPal:

Follow these steps:
1) Fill out the Membership Form. Select your Membership level and then check out with Paypal.
Let's get started –
---
Mail In Membership with Personal Check:

To pay by check, simply download and complete the 2023 membership form.
Fill it out on your computer and print it out, or print it out and fill it in by hand (please write clearly). Mail it back to the BPA Treasurer (address is on the form) along with a check for your membership dues.